Physical Therapy : Physicians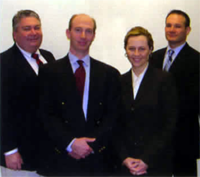 We at Brandywine Institute of Orthopaedics are committed to the highest level of patient care using the newest technologies. Our goal is to provide "big city medicine in the suburbs." Combining compassion with technology, our team strives to meet the needs of each patient with the most recent developments in medical research.
In our ongoing effort to provide quality orthopaedic therapy, we incorporate top orthopaedic care from every field. We are creating an institute of cutting edge research and longevity in both the medical field and the surrounding community. Our greatest desire is to offer an invaluable addition to the world that will last beyond our beginning contributions.
Physicians
Sports Medicine
Spinal Disorders

James T. Guille, M.D.
Linda P. D'Andrea, M.D.

Surgical Arthritis & Joint Reconstruction
Pediatric Orthopaedics
Foot & Ankle Surgery

Glenn E. Lipton, M.D.
Nikos K. Pavlides, M.D.